In July, the Federal Communications Commission made the historic announcement that it had unanimously voted to designate 9-8-8 as the universal three-digit dialing code for the National Suicide Prevention Lifeline*.
Now, it is Congress' turn to make history on 9-8-8 and make mental health crisis services more accessible.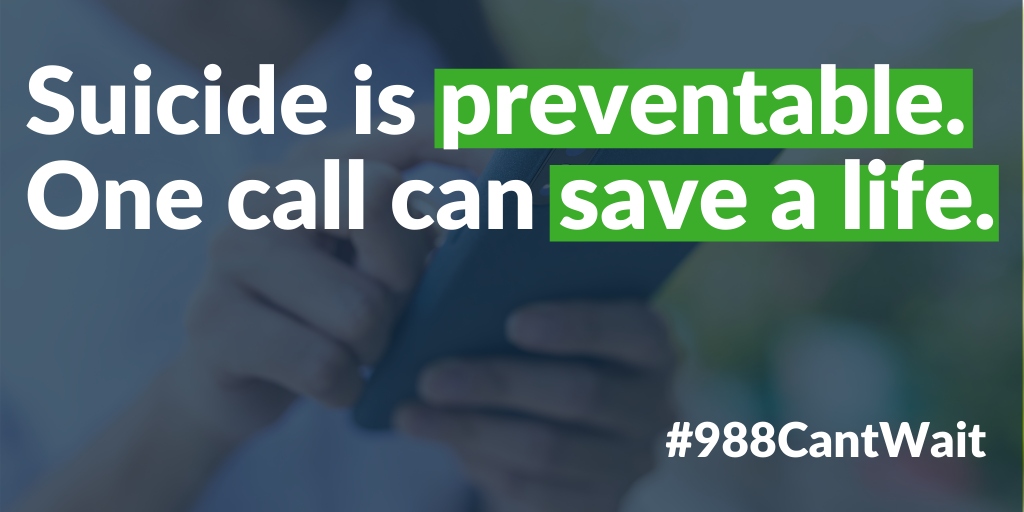 To date, the House and Senate have each approved similar, but not identical, bills establishing 9-8-8 as the dialing code and supporting the new hotline by establishing a funding mechanism through states and wireless phone carries. That legislation, the National Suicide Hotline Designation Act, is not yet over the finish line. Without this bill our communities won't be able to respond to the demand for crisis services.
Today, advocacy organizations around the nation are working together to call on Congress to complete the important work it has already started by voting to turn the National Suicide Hotline Designation Act into law. Will you join thousands of advocates across the country in urging your legislators to support the passage of the National Suicide Hotline Designation Act?
2020 has been a challenging year for everyone. The pandemic has increased anxiety, fear, isolation and grief, leading to declining mental health and increased substance use in our communities that will only continue to get worse. The bipartisan, non-controversial Designation Act is stalled in Congress, putting at risk the promise of this easy-to-access three-digit dialing code for suicide prevention and the life-saving services 9-8-8 could provide.
Take time today to urge your Member of Congress to help pass the National Suicide Hotline Designation Act and make it law this year.
*Please note that "9-8-8" is not currently available, but help is available now if you or somebody you know is in mental health crisis. Text "NAMI" to 741741 or call the Suicide Prevention Lifeline at 1-800-273-8255. This bill will make the Suicide Prevention Lifeline phone number an easy-to-remember 3 digits.