| | |
| --- | --- |
| Date: | May 19, 2022 |
| Time: | 2:00 pm |
| Location: | Facebook Live |
The Kennedy Forum is proud to be a Champion Partner for MTV's second annual Mental Health Action Day (MHAD) on Thursday, May 19. The day is designed to shift our mental health culture from awareness to action—and empower people to take steps to improve their mental health just like they would their physical health.
Our Education Director, Amy Kennedy, will hold a live (FREE) Q&A session with Brightline behavioral therapist, Lina Rodas, LCSW to discuss the most common mental health conditions in youth, what signs parents and other caregivers should watch for, when it might be time to seek professional help, educational resources, and more.
Audience questions will be answered as time permits.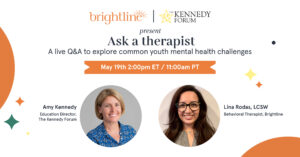 Brightline developed the nation's only one-stop shop for affordable, evidence-based online mental health care built specifically for children and caregivers. In just 2 1/2 years, they've brought the nation's leading employers and health plans to the table—partnering to provide next generation mental health resources to working families