| | |
| --- | --- |
| Date: | October 6, 2021 |
| Time: | 12:00 pm |
| Location: | Virtual |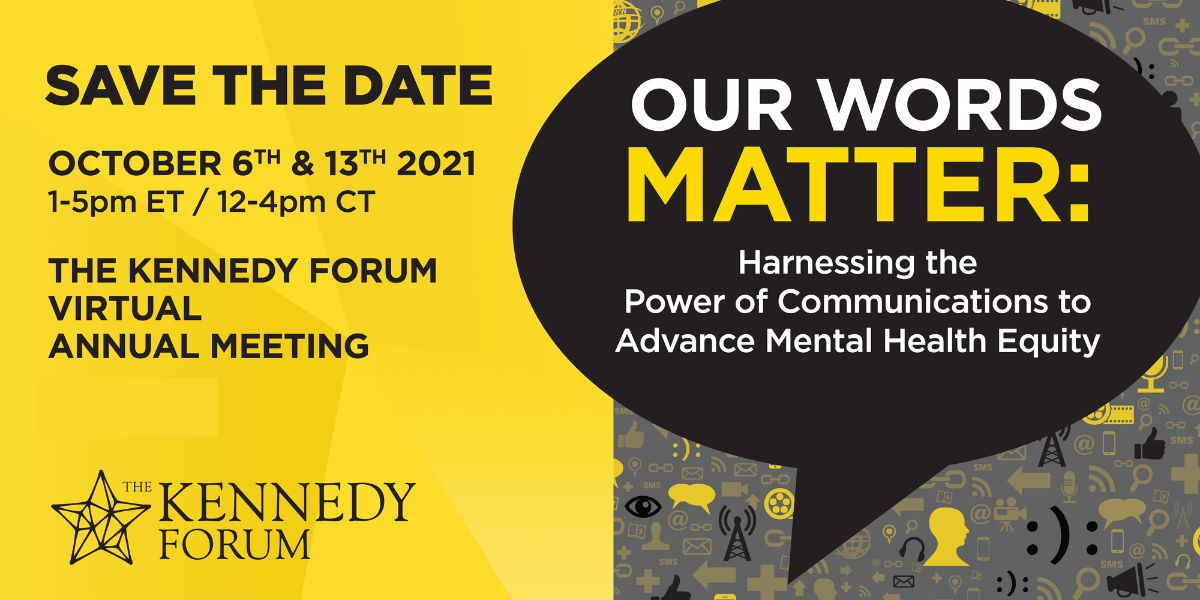 Save the date to join The Kennedy Forum's Sixth Annual Meeting, Our Words Matter: Harnessing the Power of Communications to Advance Mental Health Equity. We will convene virtually on October 6th & 13th from 1pm – 5pm ET/12pm – 4pm CT. Registration will open soon. Please look out for registration and for speaker announcements.
Today's society is hindered by an unconscious, implicit bias that fuels discrimination against those living with mental health and substance use disorders. Our words often reflect that bias, perpetuating negative stereotypes. Thus, there is an urgent need for more thoughtful, accurate communications about mental health and addiction that will open minds, connect communities, and empower policymakers. Now, more than ever, we must take steps to understand, nurture, and advance the role of communications in the fight for mental health equity. Normalizing a national conversation is key to lasting change. This year please join The Kennedy Forum as we unite leaders in communications, media, advocacy, and activism to explore best practices and define a clear path forward.
We welcome your support and encourage you to view sponsorship opportunities. If you have questions or want to learn more, please reach out directly to Cheryl Potts at Cheryl@thekennedyforum.org.