In celebration of Mental Health Month, our Education Director, Amy Kennedy, attended thefirst-ever Youth Mental Health Forum at the White House featuring First Lady Dr. Jill Biden, singer and actress Selena Gomez, U.S. Surgeon General Vivek Murthy, and 30 young leaders from across the country! May has been filled with many special activities, important policy developments, and strategic action around the overturning of Wit v. United Behavioral Health (UBH)—the landmark mental health case with big impact. Keep reading for more details.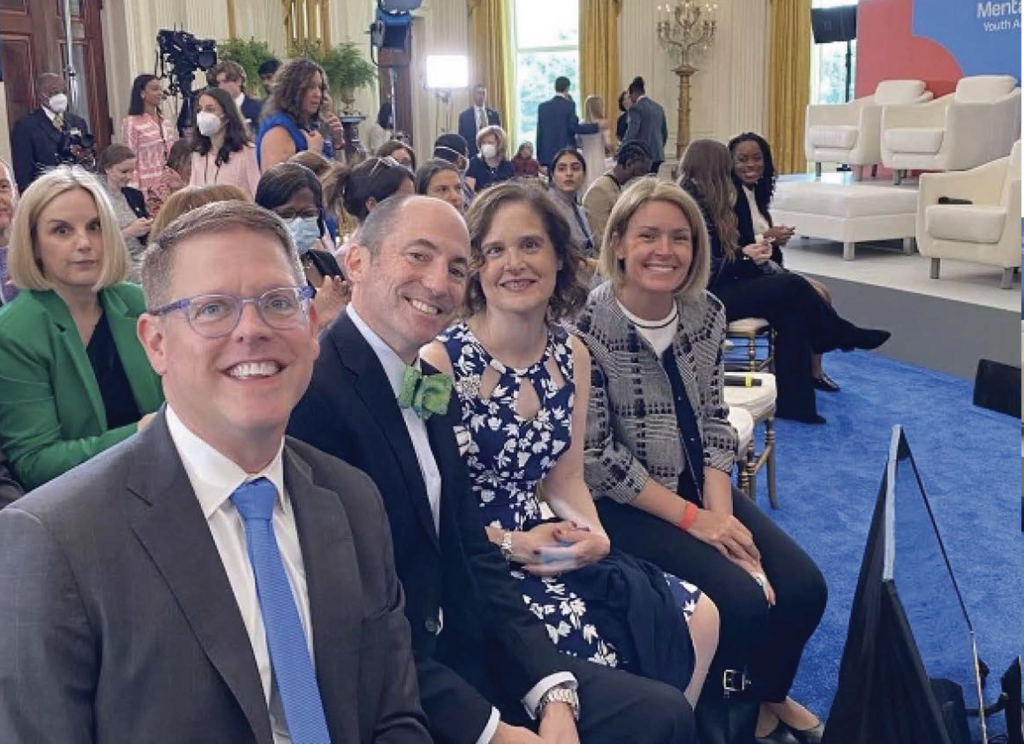 Policy Pulse
In May, Patrick and The Kennedy Forum celebrated the Mental Health Justice and Parity Act of 2022 passing the House Health Subcommittee and the House Energy Commerce Committee after much advocacy. We'd like to thank Representatives Katie Porter (D-CA), Debbie Dingell (D-MA), Frank Pallone (D-NJ), and Cathy McMorris Rogers (R-WA) for their leadership to ensure frontline workers in state and local government-sponsored health plans have equal coverage for mental health and addiction treatment. 

The House Committee on Education and Labor also passed the Mental Health Matters Act this month, a bill that will strengthen 136 million Americans' coverage rights by banning "discretionary clauses," banning mandatory arbitration for coverage denials, and ensuring DOL has key tools to enforce parity. You can read The Kennedy Forum's support letter here.  

On May 18, the House Energy and Commerce Committee passed the Restoring Hope for Mental Health and Well-Being Act (H.R. 7666), a legislative package designed to expand access to mental health services amid a worsening mental health crisis in America. The bill addresses the need to expand crisis response services by establishing a 5% set aside for crisis in the Mental Health Services Block Grant, requiring HHS to establish best practices for the crisis continuum of care, authorizing $10M for the mental health crisis response partnership pilot program, and establishing a Behavioral Health Crisis Coordinating Office. The Kennedy Forum had specifically advocated for Section 321 of the Act, which would end harmful opt outs from federal mental health and addiction parity requirements for nonfederal government plans. Read our support letter here. 

After spearheading a letter to the Pima County, Arizona (Tucson) Board of Supervisors in February addressing the county's decision to "opt out" of the Mental Health Parity and Addiction Equity Act, Patrick and The Kennedy Forum were pleased to learn this month that both jurisdictions will now reaffirm their commitment to employee mental health by opting in to federal mental health parity protections. This means that if employees enrolled in the city or county's health plan believe their plan has wrongly denied coverage for mental health or addiction treatment services, they will have recourse under federal law to challenge those denials. Read the press release from Pima County here. 
Special Wit Spotlight
We stand alongside clinical experts, mental health and addiction advocates, and 50,000 plaintiffs in Wit v. United Behavioral Health (UBH) fighting to protect mental health and substance use disorder coverage. At stake in this case is whether the largest insurer in the country can make its own decisions around mental health coverage– and in the process, set a dangerous example for how other insurers can limit coverage of urgently needed mental health and addiction treatment. The U.S. District Court for Northern California ruled in 2019 that UBH ignored accepted clinical standards to prioritize profit over people's needs, but the ruling was recently reversed by a 3-judge panel of the 9th Circuit Court of Appeals. If left unaddressed, the panel's ruling would establish a harmful precedent for other insurers– amidst a historic mental health and addiction crisis, no less. The ripple effects of a Wit ruling impact the healthcare of over 130 million Americans. 
Leading mental health advocates and practitioners pushed back on the 3-judge panel ruling by filing amicus briefs that urge the 9th Circuit Court of Appeals to rehear the case, emphasizing that implications will be significant if insurers are allowed to make decisions out of step with clinical standards: "Patients will suffer as a result [of the panel's reversal]. When insurers are given the authority to ignore expert consensus treatment guidelines and deny authorization for covered medically necessary treatment based on financially influenced internally developed guidelines, patients are forced to forego medically necessary care. This is especially problematic in a world where so many people with behavioral illnesses already do not receive the care they need."  – National Association for Behavioral Healthcare, American Psychological Association, American Hospital Association, et al. 
A rehearing from the full 9th Circuit offers an opportunity to revisit the panel's flawed ruling, which allows insurers to deny coverage of medically necessary treatment during a historic national mental health and addiction crisis. Learn more about the case and why this is one of the most significant health policy cases of the 21st century.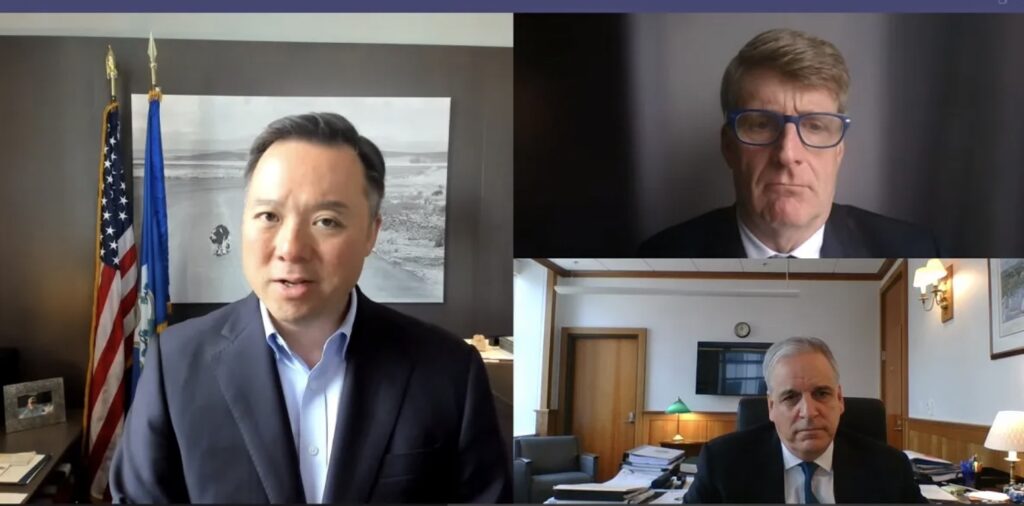 On May 16th, Patrick joined Rhode Island Attorney General Peter Neronha and Connecticut Attorney General William Tong for a virtual press conference on the Wit case. Because UBH violated the states' parity laws, Neronha, Tong, and Illinois Attorney General Kwame Raoul also filed an amicus brief to try to protect access to lifesaving mental health and addiction care during a time of growing need. Read a press release from Neronha's office here. The press conference kicked off a major advocacy campaign designed to shine a spotlight on the issue nationwide and influence the Ninth Circuit in California. The Kennedy Forum has been busy pitching story ideas to local and regional media outlets, exploring strategic op-eds with subject matter experts, and developing tools for partners such as social media messaging and graphics.
Campaigns & Resources
In case you missed it—last month during a webinar from The Kennedy Forum featuring HHS Secretary Xavier Becerra, Miriam E. Delphin-Rittmon, Ph.D., HHS Assistant Secretary for Mental Health and Substance Use and the leader of the Substance Abuse and Mental Health Services Administration (SAMHSA), announced new resources to help inform Americans of their mental health and addiction treatment insurance benefits under law and to help state insurance regulators and behavioral health staff better understand parity. View the resources here. 

In advance of the transition to 988 (the new 3-digit number for mental health emergencies) this July, the Suicide and Crisis Lifeline network is looking to bring on volunteers and paid employees to answer calls, chats, and texts from people in crisis. Training is provided. More information here. 

This month, the National Institute on Alcohol Abuse and Alcoholism launched The Healthcare Professional's Core Resource on Alcohol, a new online tool to help healthcare professionals improve care for patients whose use of alcohol may be affecting their health. The resource offers free CME/CE credits—up to 10.75 hours—for physicians, physician assistants, nurses, clinical psychologists, and pharmacists. More here. 

An award-winning new documentary exploring bipolar psychosis and other psychotic conditions is available to watch (in its entirety) for free on You Tube—today only. "Breaking the Silence," directed by Dara Sanandaji and co-directed by Freddit Bell, presents a moving story of catharsis, redemption, and renewal, interwoven with educational information about the origins, diagnosis, and treatment of psychosis. Watch for free (today only) here. Learn more about the film here. 

The latest round of Don't Deny Me campaign posts for partner organizations addressed Mental Health Month 2022. See sample posts here and here.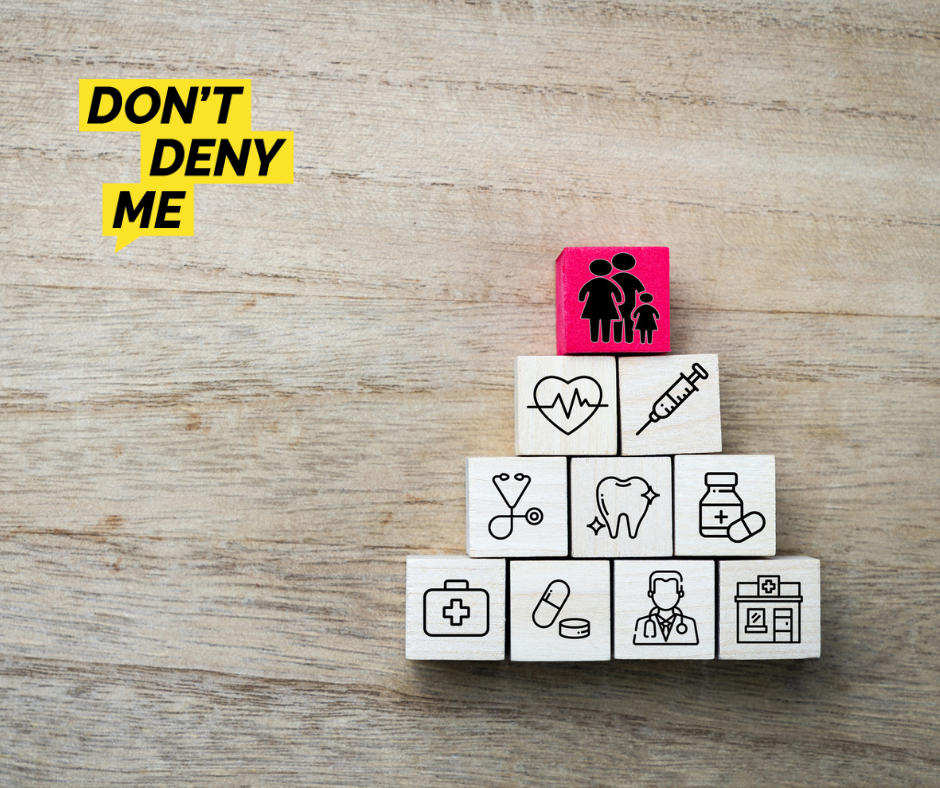 Youth Mental Health Focus
n her May blog post, The Kennedy Forum's Education Director, Amy Kennedy, addresses our nation's promise to help the people of Ukraine, particularly youth, and the implications of trauma. "We must follow through on our commitment to providing support for mental health care to give kids the opportunity to escape not only dangerous experiences now, but also a lifetime of undue struggle." Read the post here.  

This month, 19 New Jersey state and local advocacy organizations, including The Kennedy Forum, filed a formal petition for rulemaking with the State Board of Education urging the adoption of rules to guide the use of state security aid provided to school districts. The petition seeks rules to ensure the funds are spent on evidence-based, effective practices that support student mental health and an inclusive school climate. The petitioner organizations are represented by Education Law Center and the ACLU of New Jersey. "Students, families, and caregivers have been calling for better access to care for decades. We owe our students safe and secure environments where they can access effective and comprehensive mental health services and education. For too long we have relied on punitive discipline and ineffective practices that ignite destructive cycles and harm our children. This petition moves us in the right direction by strengthening school safety plans and investing dollars in our children, our future,"- Amy Kennedy, Education Director of The Kennedy Forum. Read the press release here. 

The Kennedy Forum submitted comments to the U.S. Preventive Services Task Force in support of their recent recommendations for youth anxiety and depression screenings, and suggested they reconsider their recommendation on suicide screenings. Read the comments here.  

In May, The Kennedy Forum joined a letter with members of the Mental Health Liaison Group in support of Strengthen Kids' Mental Health Now Act (H.R. 7236), which would bolster support for pediatric mental health care through Medicaid with enhanced reimbursement and improved Early and Periodic Screening, Diagnostic and Treatment (EPSDT) benefit implementation; support community-based pediatric mental health services and innovative solutions to increase care coordination and integration; invest in developing and growing the pediatric mental health workforce; and expand our national capacity to provide care to children across the continuum of care, including for those who require inpatient treatment and step-down levels of care. Read the letter here.  

The Forum also supported Delaware's HB300, which would increase school mental health professionals in middle schools (grades 6-8) to meet target ratios of one full-time school counselor, social worker, and/or licensed clinical social worker for every 250 students, and an additional full-time school psychologist for every 700 students over the course of three years. This would build on a similar bill enacted last year that increased school mental health professionals for grades K-5. Read the letter here.
Equity Focus
The Kennedy-Satcher Center for Mental Health Equity (KSCMHE) announced a new initiative in partnership with Beacon Health Options (Beacon): Embedding Equity into 988: Imagining a New Normal for Crisis Response. This research and policy initiative will imagine equitable crisis response for the future of behavioral health service delivery ahead of the July 2022 launch of 988, a national crisis line that will serve as a "911" for psychiatric emergencies. More here.  

Madhuri Jha, LCSW, MPH (she/hers), Director of the Kennedy-Satcher Center for Mental Health Equity, wrote a special blog post this month titled "If You're Feeling Numb and You Think This is Normal, Something is Very Wrong." In it, she explores the implications of recent tragedies and shares details of a powerful personal experience. "No other country in the world experiences mass incidents of violence and racism like we do here in the United States. I am concerned that policies have historically seen the mental health system as the remedy to the complex trauma and rage that our society is burdened with due to exposure to such violence. It's time we started treating violence and racism as public health and national security crises." Read the post here.
In the News
Reuters covered the actions taken by Attorneys General Neronha, Tong, and Raoul in light of the Wit reversal. Read the article here. The issue was also covered by Bloomberg Law and CT News Junkie.
Recordings
On May 11, The Kennedy-Satcher Center for Mental Health Equity, The National Alliance on Mental Health, the American Psychological Association, and Hurdle hosted a mental health symposium to observe the anniversary of George Floyd's death. An expert panel discussed the qualitative analysis conducted by Hurdle Health's team of clinical researchers on the Black experience of vicarious racism. Watch the recording here.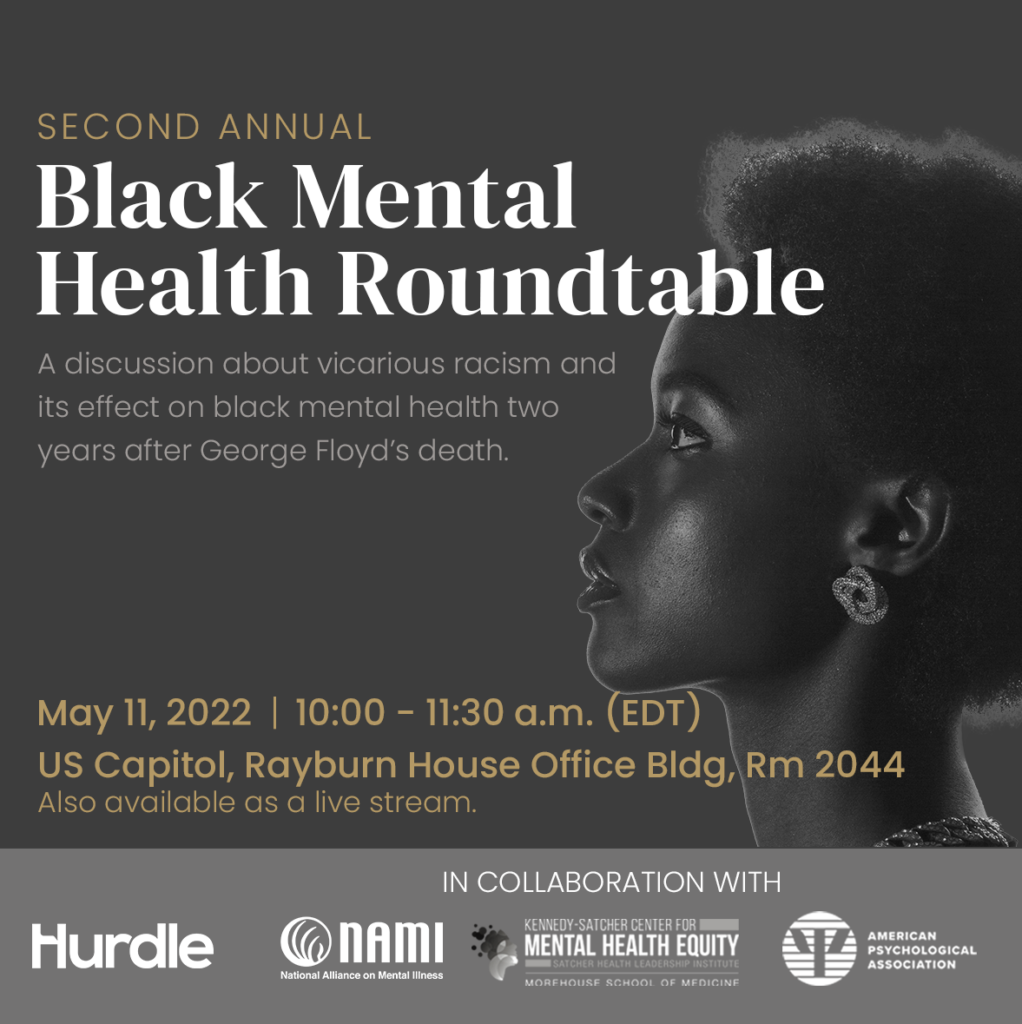 On May 17, The Kennedy-Satcher Center for Mental Health Equity's five-part held the final session of its webinar series, "Criminal Justice and Equity: Bridging the Gaps." The session addressed housing access and environmental support systems. Speakers included Schroeder Stribling, MSW, President and CEO of Mental Health America; Alexis Rosales, MPA, Executive Director of Business Development of Gateway Foundation, Inc.; Sarah Y. Vinson, MD, Associate Professor of Psychiatry and Pediatrics at Morehouse School of Medicine; Terah Lawyer-Harper, BBA, Executive Director of CROP Organization.Watch the recording here.  

On May 18, Amy Kennedy attended the first-ever Youth Mental Health Forum at the White House featuring First Lady Dr. Jill Biden, singer and actress Selena Gomez, U.S. Surgeon General Vivek Murthy, and 30 young leaders from across the country. Watch the recording here. 

On May 18 and May 25, Amy Kennedy and Duncan Young, CEO for Effective School Solutions, co-presented the two-part webinar, "Helping Every Student in Need: a 5 Year Vision for School-Based Mental Health." Panelists included Dr. Chelton L. Hunter, Superintendent of Schools, Middletown Area School District;Jocelyn Brown, Ed.D, LPCMH, Supervisor of Instruction, Capital School District; and Katie Lemerich, Principal of Tewksbury Elementary School in New Jersey. The event was sponsored by SAMHSA and organized by Mental Health America. Watch the presentation here and watch the Q&A here.  On May 19, in honor of Mental Health Action Day, The Kennedy Forum's 

Amy Kennedy hosted a free, virtual Q&A with Brightline behavioral therapist, Lina Rodas, LCSW to explore common youth mental health conditions, symptoms, when to get help, and more. Watch it on Facebook here. Watch on YouTube here.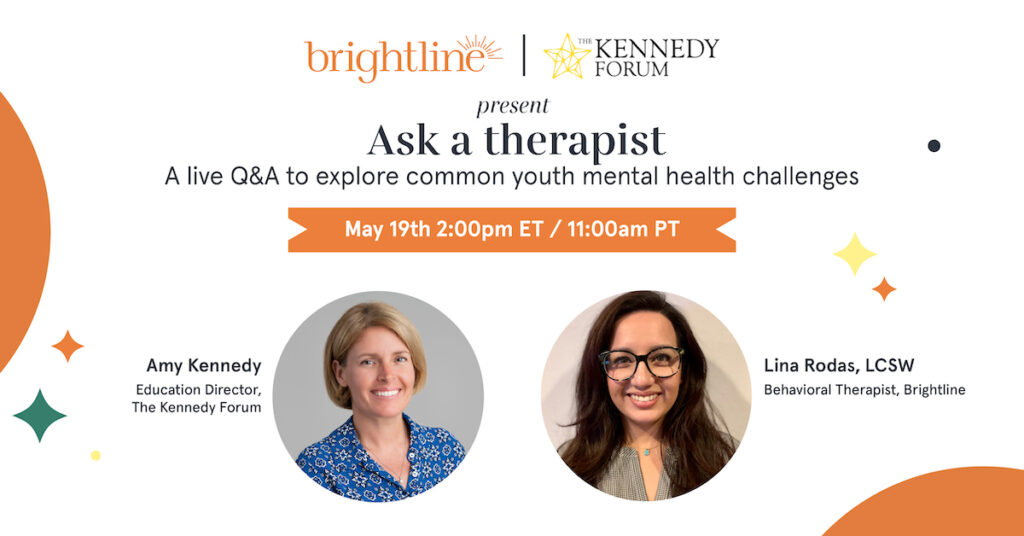 On May 25, The Kennedy Forum Illinois hosted a discussion about improving access and eliminating barriers to essential mental health care in rural America. Panelists included Karen Leavitt Stallman, Farm Family Resource Initiative; Liz Hulsizer, Grain Originator for a large grain company; Courtney Cuthbertson, University of Illinois; and Jeff Franklin, Center for Rural Health and Social Service Development. Watch it here.
Upcoming Events
Kennedy-Satcher Center for Mental Health Equity, 988, and Equity Leadership Convening 
June 21
The Kennedy-Satcher Center for Mental Health Equity will host a leadership summit on June 21 to discuss how we can embed equity into the new national crisis line of 988.

34th D.A.R.E. International Training Conference. 
July 17
Patrick J. Kennedy will join Kevin Sabet, and Mark Gold, MD to participate in a panel discussion around marijuana.
 
Hiding in Plain Sight Screening: Annual Conference of Chief Justices and Annual Conference of State Court Administrators
July 25
A panel discussion with Ken Burns and Patrick titled "The power of stories to educate, inform and produce change" will follow this screening. Mr. Russ Deyo, a Board Member of One Mind, a former Board Member of the National Center for State Courts, and a valued member of the National Judicial Task Force to Examine State Courts' Response to Mental Illness will serve as moderator.

Mobilize Recovery 2022
September 5-18
The Kennedy Forum is excited to join nearly two dozen cross-sector partners from across the country in supporting Mobilize Recovery 2022, an initiative of the RecoveryAdvocacy Project and the Voices Project. Mobilize Recovery strives to advance policy around substance use disorder recovery, to create connections to vital and lifesaving services, and to engage affected individuals in meaningful community action. Launching Labor Day weekend 2022, Mobilize Recovery Across America will depart on a west-to-east, cross-country bus tour. At each stop, Mobilize Recovery events will highlight the unique recovery experience in different communities. With the support of brands such as Google and YouTube, all stops will also have a virtual component—to share local insights and best practices with others.