We applaud the Biden Administration and U.S. Departments of Labor, Health and Human Services, and Treasury for today's release of proposed rules for the Mental Health Parity and Addiction Equity Act (Federal Parity Act), the law in which our founder Patrick J. Kennedy was the lead author.
Increasing access to mental health and substance use care by eliminating discrimination in the coverage of these conditions has been a cornerstone of The Kennedy Forum's work since its founding in 2013. These newly proposed rules would put much-needed teeth into the Federal Parity Act regulations, which are critical to saving lives amidst our nation's ongoing mental health and substance use crisis.
For too long, federal and state agencies have been hamstrung by the inadequacies of previous regulations, which have proven too weak to properly hold insurers accountable for ongoing violations of the Federal Parity Act. We urge the Administration to move swiftly to finalize the proposed rules and we urge our allies to proudly show their support throughout what promises to be a challenging rulemaking process. Read our full press release here.
The Kennedy Forum will share the link to submit comments on these proposed rules when the link is available. More on why public comments matter here.
For updates and additional content on the parity rulemaking process, follow us on Twitter, LinkedIn, and Facebook.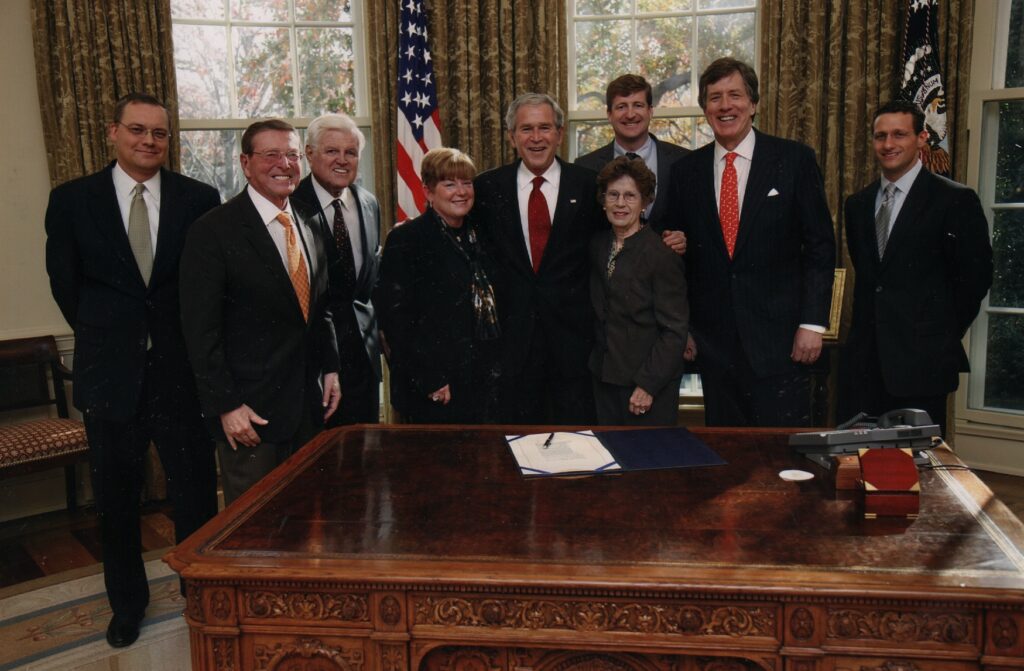 Patrick stands in the Oval Office with the lat Senator Ted Kennedy and former President Bush as the Federal Parity Act is signed into law.