Youth Mental Health Spotlight
At the National Governors Association's (NGA) 2022 Summer Meeting The Kennedy Forum's Co-Founder Amy Kennedy, Policy Director Lauren Finke, and The Kennedy Forum team kicked-off a year of engagement, advocacy, and advisement, meeting with Governors across the country to advance youth mental health. One year later, as the NGA's year-long Chair Initiative on youth mental health comes to a close, The Kennedy Forum is gratified to see our advocacy efforts come to fruition.
The NGA, under the leadership of NGA Chair and New Jersey Governor Phil Murphy, has released their Governors' Playbook, complete with 35 non-partisan policy recommendations. Earlier in July, the Washington Post Editorial Board previewed the playbook, contextualizing it with their latest reporting on the jarring state of youth mental health in the U.S. The comprehensive playbook, which includes several policies advocated for by The Kennedy Forum, will be a powerful tool for governors across the U.S. to turn to as they grapple with the shared realities of this crisis. The Kennedy Forum is particularly pleased to see our recommendations on enacting Medicaid State Plan Amendments to allow schools to bill for all medically necessary services provided to Medicaid-enrolled students, implementing parity in commercial insurance coverage, and building youth-specific mental health crisis response services in schools and communities included in the playbook. See the full playbook here.
Also on Thursday, July 12, Governor Murphy signed a groundbreaking youth mental health bill (A-3334) after collaboration and advocacy from The Kennedy Forum and Inseparable. The bill gives more New Jersey kids access to mental health services in the midst of record youth mental health challenges by allowing education agencies to receive federal Medicaid reimbursement for school-based behavioral health programs and services, and to use those funds to support services for students and their families. Read our full press release here. 
Coverage Highlights
Cape Convenings
The Kennedy Forum's series of Cape Convenings continued in June as we honed in on Chief Medical Officers' (CMO) roles in the payor system, and electronic medical records (EMR).
At the CMO convening, co-hosted by Kyu Rhee, MD, MPP, participants engaged in discussion around shared challenges including lack of standardized, behavioral health-specific measures that are focused on outcomes (e.g., quality of life) as opposed to process (e.g., length of stay, re-admission), licensing restrictions, and limitations with existing technology and data. Together the group developed potential educational, advocacy, and internal solutions. We're glad to report this group is eager to meet again and sustain the momentum built at the Cape.
We concluded this set of Cape Convenings with stakeholders focused on electronic medical (or health) records. We are grateful for our co-hosts at Oracle Health, who helped foster rigorous discussion around this system pressure-point. In those discussions, participants delved into the challenges with EMR adoption among mental health and substance use providers, lack of standardization in metric requirements, and lack of standardization in payment models across states. Solutions discussed included simplifying interfaces and providing guidance on how to braid funding programs. We look forward to seeing these solutions take shape.
Webinars
On June 7, The Kennedy Forum's Illinois team hosted an insightful webinar with Employee Benefits Security Administration, a division of the U.S. Department of Labor. Entitled Hoops, Hurdles and Holdups: Overcoming Private Insurance Barriers for Behavioral Health Providers, the webinar was moderated by long-time Kennedy Forum partner and former board member Joe Feldman. More than 450 registrants participated with 50% of insurance agencies in Illinois registering at least one person. 
Global Coverage Leadership
June was a whirlwind month for our Founders' as they shared their perspectives with attendees at events across Europe…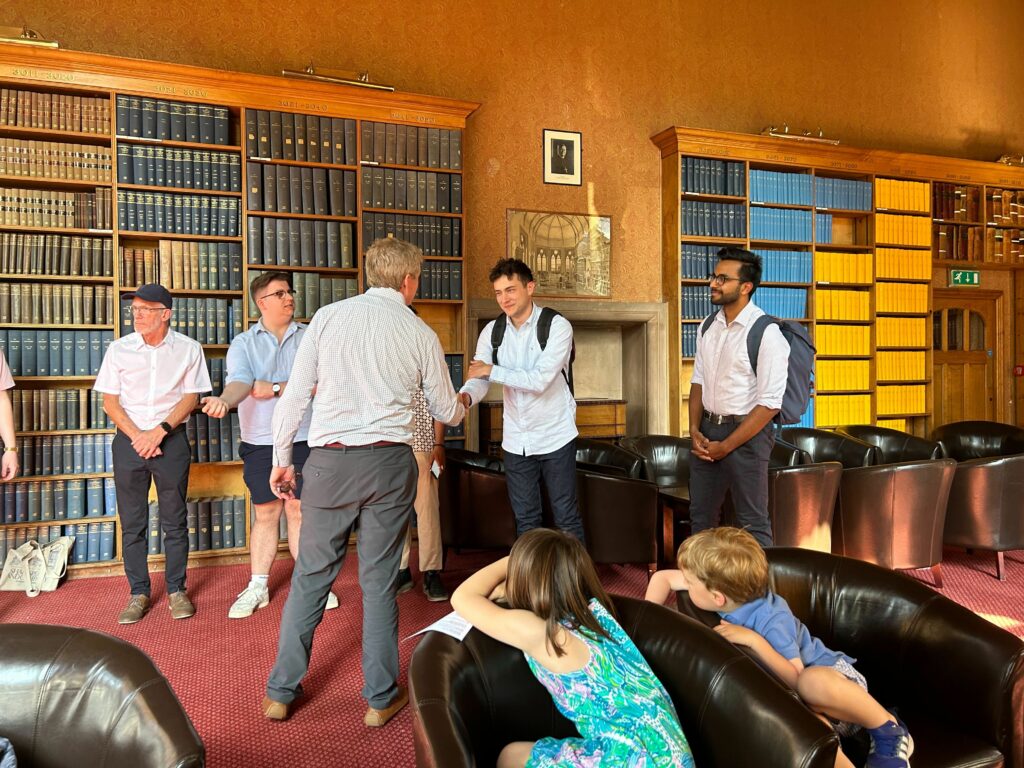 Patrick Kennedy engages with Oxford Students at the Oxford Union
The Kennedy Forum's Alignment for Progress Movement
As we've shared in previous issues, we are working hard to launch and fund the Alignment for Progress movement this fall. Part of the movement is to engage partners who will commit to elements of change that align with their organizational efforts. In the weeks and months to come, we will share these commitments to amplify the impactful work these organizations do and demonstrate the breadth, depth, and urgency of the change we hope to bring about through the Alignment for Progress movement.
Today, we are inviting you to submit one of your organization's existing goals.
What are Commitments?
We're asking partners to send us one goal that their organization is already working towards, which we can publicly elevate and disseminate through our Alignment for Progress communication channels. You can select a goal (or objective, strategy) from your strategic plan or other organizational guiding documents that will drive meaningful change within the MH/SUD system. When possible, SMART (specific, measurable, achievable, realistic, and time-bound) goals are preferred. This should be something that you aim to accomplish over the next five years.
Please contact Kate.Clark@TheKennedyForum.org with any questions or to express interest in making a commitment. We are grateful for your ongoing support as we align to ensure mental health is treated as essential health!