Hello from The Kennedy Forum. We've had a busy and productive Mental Health Awareness Month so far! As with every month, we're working to amplify data and policy work that reveal how far our movement has come and where we have left to go.
Monthly Spotlight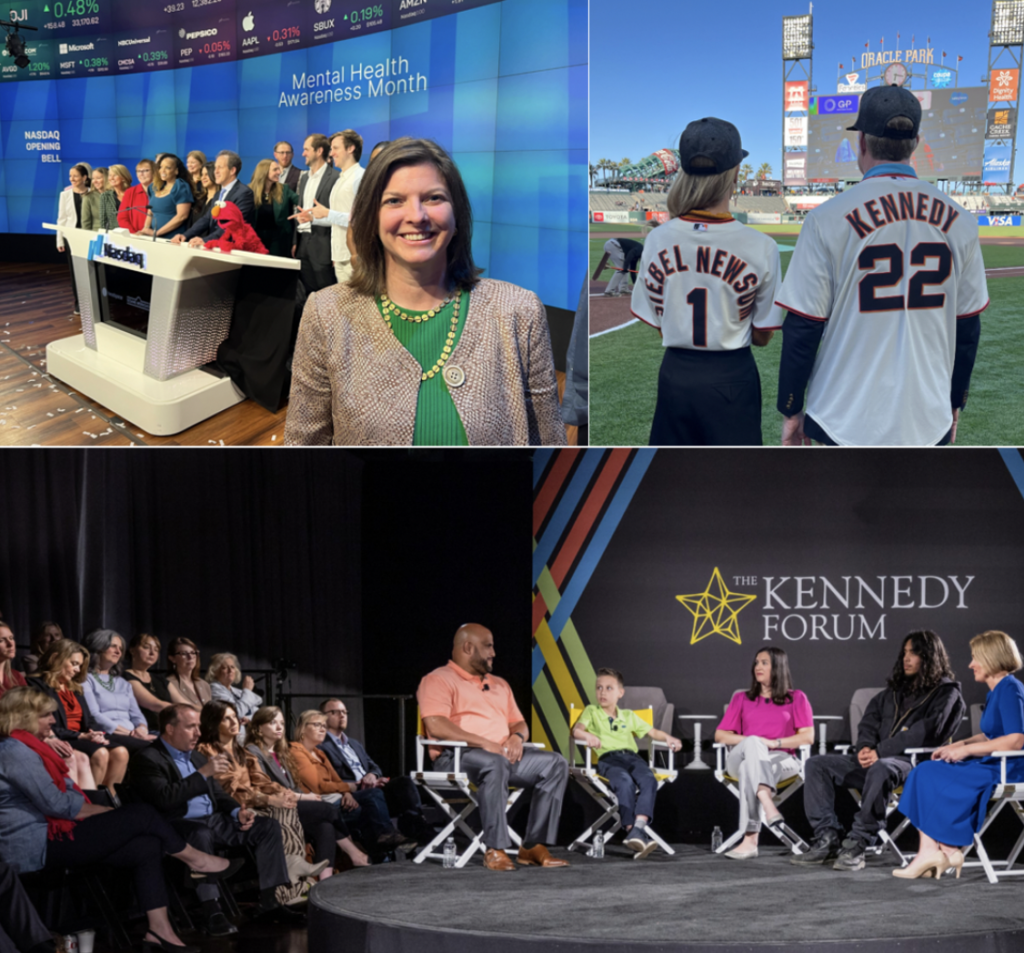 Our Founder Patrick J. Kennedy and President & CEO Rebecca Bagley joined the First Partner of California Jennifer Siebel Newsom at Oracle Park for a conversation about mental health and a ballgame. Patrick and the First Partner threw out the first pitch and spoke to a small group about the important work that must be done to solve the mental health and substance use crisis in the United States. Since 2020, Governor Newsom has signed two groundbreaking bills led by The Kennedy Forum and our partner The Steinberg Institute that put in place nation-leading mental health and substance use coverage requirements (SB 855) and implemented 988 in California (AB 988).
Meanwhile, The Kennedy Forum's Co-Founder Amy Kennedy, moderated several powerful conversations with mental health leaders, advocates, children and parents in Chicago. At the event, Illinois Governor J.B. Pritzker praised The Kennedy Forum for its groundbreaking work on mental health and addiction parity in the state, saying in part, "The Kennedy Forum is one of Illinois's foremost voices for mental health coverage and with your early and lasting leadership Illinois initially enacted a Mental Health Parity Law in 2018 to increase access to care with those with mental health and substance use disorders…" Stay tuned for our virtual town hall that will air locally and nationally this fall!
Last week, President & CEO Rebecca Bagley joined Headspace and Sesame Workshop at NASDAQ to ring the opening bell in honor of Mental Health Awareness Month. Last month, she offered her insights on a panel hosted by University of South Carolina Upstate and Meharry Medical College, a historically Black medical school, centered around mental health and wellness.
We are focused on aligning partners across the country around our "Alignment for Progress" initiative this fall. In preparation, The Kennedy Forum led our first Cape Convening bringing together industry leaders to discuss pressing points in our mental health and substance use disorders systems and identify actionable solutions that align us towards progress.
Look out for more from us this Mental Health Awareness Month!
Coverage Highlights
We led a letter to senior officials urging the Drug Enforcement Administration (DEA) and the Department of Health and Human Services (HHS) to change course on proposed rules that would impose harmful restrictions on telehealth prescriptions of certain mental health medications and the medication-assisted treatment (MAT) drug, buprenorphine. After this letter and thousands of comments in opposition to the proposed rules, the DEA released a temporary rule extending prescribing flexibilities for the time being. We urge the Administration to not move forward with restrictions on telehealth prescribing of important medications that will harm access to care. Our Chief Policy Officer, David Lloyd, was quoted in the Washington Post explaining why the proposed rules would be harmful.
NEW! Our Founders Patrick and Amy Kennedy became the first couple to join the Substance Abuse and Mental Health Services Administration's (SAMHSA) #TalkTheyHearYou "What Parents Are Saying" podcast. They engaged in a candid conversation on parenting and mental health. Check out the SAMHSA episode here!
We support efforts by the American Hospital Association and other medical organizations, which filed a brief to the U.S. Court of Appeals asking to restore the preventive services mandate of the Affordable Care Act (ACA), which was struck down by a district court. The ACA's preventative services requirement – which requires coverage without cost sharing of depression, anxiety, and unhealthy alcohol use – is essential to keeping individuals healthy and moving upstream to intervene early for costly mental health and substance use disorders.
Youth Mental Health Highlight
The Kennedy Forum's "Alignment for Progress" Initiative 
The Kennedy Forum is working to align our partners in the mental health and substance use disorders space with our "Alignment for Progress" initiative launching this fall—an action-oriented coming together of vision, commitment, and investment with the goal of redirecting the future of care. Our work will be aimed at clearing paths to parity; furthering the advancement of evidence-based practices, politics, and programming; and overseeing a measurable movement towards population-level progress and change. We have some exciting projects in the works including testimonial videos, toolkits, and more. We look forward to working with you soon!
Join our movement: ​​https://www.alignmentforprogress.org/