Mental Health Awareness Month Spotlight
The Kennedy Forum is glad to share this special edition of our monthly newsletter to recap Mental Health Awareness Month. From our Founders and CEO to our policy and communications teams, everyone at The Kennedy Forum was actively engaged in bringing the critical issues around mental health and substance use care the attention they deserve.Continue reading to see how we rounded out the month.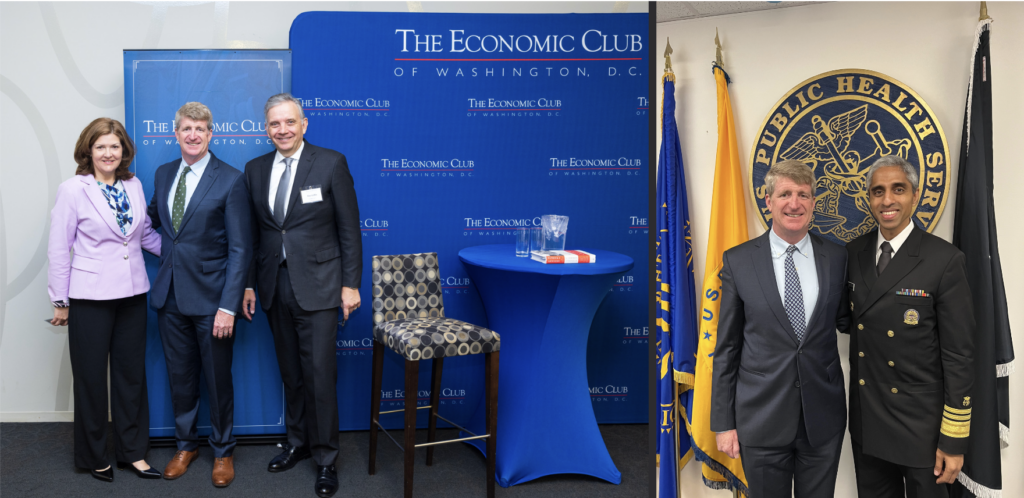 Coverage Highlights
We enthusiastically endorsed the Better Mental Health Care for Americans Act introduced by Senators Michael Bennet (D-CO) and Ron Wyden (D-OR). This bill will expand access to mental health and substance use care by extending parity to those with Medicare, Medicare Advantage, Medicare Part D, and Medicaid.
The Economic Club of Washington, D.C. and KPMG hosted our Founder Patrick J. Kennedy for a discussion on business' role in supporting mental health. Patrick discussed the impacts of mental health on the workforce, economic impacts of leaving this issue unaddressed, and ways business leaders can support parity within their organizations.
While in D.C. Patrick Kennedy, President & CEO Rebecca Bagley, and Chief Policy Officer David Lloyd had productive meetings with U.S. Surgeon General Vivek Murthy, Senator Ron Wyden (D-OR), Senator Jack Reed (D-RI), and the Biden Administration to discuss expanding access to mental health and substance use care.
Patrick Kennedy, co-chair of the Mental Health & Suicide Prevention National Response, kicked off the initiative's quarterly meeting on May 4th. The meeting celebrated the National Response's impact since its launch in the depths of the COVID-19 pandemic, as well as the upcoming one-year anniversary of 988 Suicide & Crisis Lifeline. National Response members also recognized the tremendous work of Dr. Richard McKeon, Senior Advisor of Suicide Prevention in the 988 and Crisis Office, who was recently given the Louis I. Dublin Award from the American Association of Suicidology.
Youth Mental Health Highlights
Co-Founder Amy Kennedy joined the National PTA on Mental Health Action Day alongside fellow parents, advocates, and experts to foster student well-being and champion school-based mental health. Listen in here.
Co-Founder Amy Kennedy and Senior Director for Strategic Alliances Kate Clark represented The Kennedy Forum in Philadelphia for the National Governors Association (NGA) May meeting on Governor Murphy's Chair Youth Mental Health Initiative. Stay tuned for youth mental health recommendations and more coming out of the summer NGA meeting in the Kennedy's home state of New Jersey!
The Kennedy Forum proudly offered support to the reintroduced Momnibus bill from Congresswomen Lauren Underwood (D-IL-14) and Alma Adams (D-NC-12) and Senator Cory Booker (D-NJ). Among many valuable provisions, the bill will provide crucial investments in maternal mental health. Read our policy recommendations for the intersection of maternal and youth mental health.
To stay up to date with all of our policy endorsements follow us on Twitter, LinkedIn, and Facebook.
The Kennedy Forum's "Alignment for Progress" 
Our Alignment for Progress initiative continues to build steam as we meet with key stakeholders, build our policy recommendations, and engage partners from a diverse set of communities, experiences, and sectors. We look forward to working with you soon!
Join our movement: ​​https://www.alignmentforprogress.org/