AB 988, co-sponsored by The Kennedy Forum and Steinberg Institute, recently passed the California legislature and is awaiting Governor Newsom's signature to become law. It's the only actively moving state bill that enables a comprehensive fee and planning process for 988: sustained funding for call centers and mobile crisis teams through a small telephone surcharge, a five-year implementation planning process, and a technical advisory board to inform integration of 988 and 911. The bill also reiterates that health plans cannot refuse coverage for medically necessary mental health and substance use disorder services, including crisis services. Read the press release from Assemblymember Rebecca Bauer-Kahan here. See the letter from national groups, urging Governor Newsom's signature on the bill, here.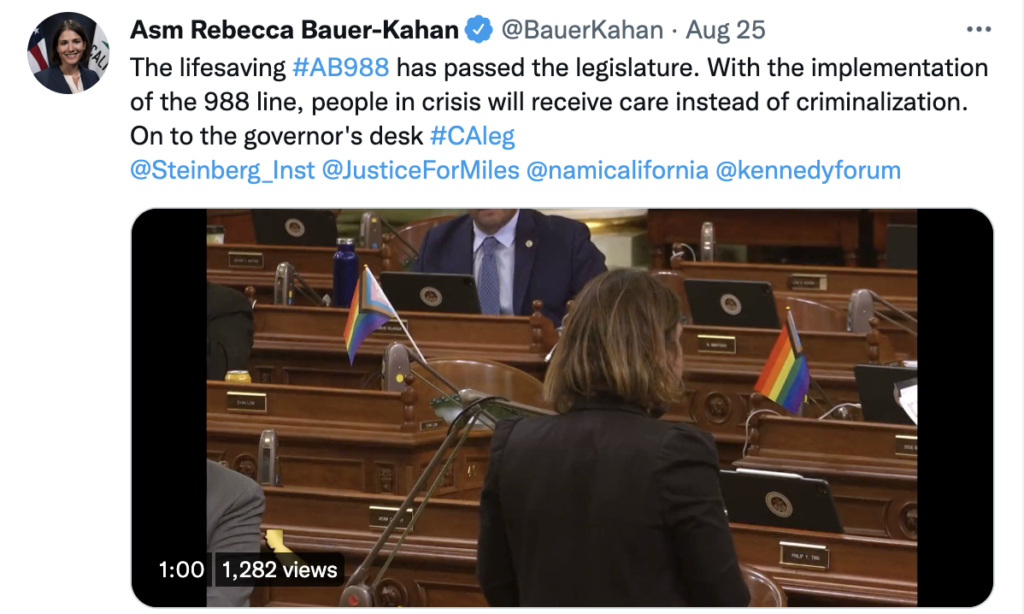 In Other News…
The Kennedy Forum recently led a letter to U.S. Secretary of Health and Human Services (HHS), Xavier Becerra, on behalf of 60 national organizations. It urged HHS to take proactive steps to integrate mental health and substance use throughout the organizational structure and operations of the Administration for Strategic Preparedness and Response (ASPR). Read it here. 
President Biden has officially signed the Public Safety Officer Support Act, bipartisan legislation authored by U.S. Senators Tammy Duckworth (D-IL) and John Cornyn (R-TX) and endorsed by The Kennedy Forum, into law. The Act will support families of public safety officers who are lost to trauma-linked suicides. More here. 
The Kennedy Forum recently signed on to a letter led by the Children's Hospital Association in support of the Health Care Capacity for Pediatric Behavioral Health Act, which will create three new grants within HRSA designed to fund pediatric mental health supports at the community level, enhance the training and capacity of the existing pediatric healthcare workforce, and strengthen the infrastructure for the delivery of pediatric mental health services.  
Yesterday, The Kennedy Forum joined the Association for Behavioral Health and Wellness for a Twitter Chat about changes to 42 CFR Part 2 (involving substance use disorder medical record sharing). View it here.