Amy Kennedy Advises Governor Phil Murphy as He Launches His National Governor Association Chair's Initiative Focused on Youth Mental Health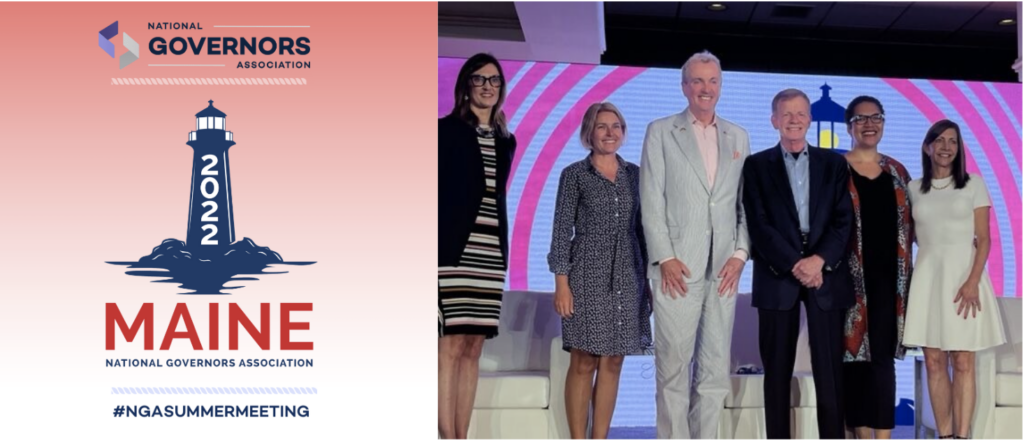 The Kennedy Forum, under Amy's leadership, recently advised New Jersey Governor Phil Murphy on his new Initiative as Incoming Chair of the National Governor's Association (NGA): "Strengthening Youth Mental Health." The four pillars of the Initiative—Prevention and Resilience Building, Increasing Awareness and Reducing Stigma, Access and Affordability of Quality Treatment and Care, and Caregiver and Education Training and Support—align with a comprehensive policy framework developed by The Kennedy Forum's extensive advocacy.
On July 15 at the summer meeting of the NGA in Maine, Amy joined Governor Murphy, the First Lady of New Jersey Tammy Murphy, Dr. Mary-Ann Etiebet of Merck for Mothers, and Heidi Baskfield of Children's Hospital Colorado for a closing plenary session to formally kick off the Initiative. Watch the discussion here.

Amy's unique insights as a former public school teacher, mental health advocate, and mother of five will also be invaluable in the coming year as the Initiative rolls out. The Kennedy Forum's CEO Rebecca Bagley said, "During an unprecedented crisis for youth mental health, the partnership with NGA under Governors Murphy's leadership creates an opportunity to develop and amplify policies that can be implemented at a state level and will have positive impacts nationwide. The Kennedy Forum is honored to support this bi-partisan effort."
Learn more here.