Great news! We are happy to report that thanks to extensive advocacy work from groups including The Kennedy Forum, on June 22, the U.S. House Energy and Commerce Committee passed the Restoring Hope for Mental Health and Well-Being Act (H.R. 7666)! This critical legislation would ensure state and local public employees have equal coverage for mental health and addiction treatment by ending a harmful parity opt-out option. It would also make it much easier for doctors to prescribe the lifesaving drug, buprenorphine, for opioid addiction. More below.
Policy Pulse
On June 22, the U.S. House of Representatives passed the Restoring Hope for Mental Health and Well-Being Act (H.R. 7666), a legislative package–passed by an overwhelming bipartisan margin–that includes important provisions to ensure state and local public employees have equal coverage for mental health and addiction treatment. The legislation would also end the need for doctors to obtain a separate waiver to prescribe the lifesaving opioid use disorder medication, buprenorphine.

For several years, The Kennedy Forum has spearheaded an effort with partners to stop self-funded state and local government plans from opting out of the Mental Health Parity and Addiction Equity Act's protections. Recently, we led a letter signed by more than 70 groups to the House Energy and Commerce Committee on this topic. The Kennedy Forum has also actively supported eliminating the "X-Waiver" alongside organizations like the Association for Behavioral Health and Wellness (ABHW) and America's Health Insurance Plans (AHIP) —and recently led a letter signed by more than 60 organizations calling for the removal of this deadly barrier to addiction treatment. Read the letter here.

We are thankful to Congresswomen Katie Porter (CA) and Debbie Dingell (MI) for leading House efforts on the parity opt out, and to Chairman Frank Pallone (NJ) and Ranking Member Cathy McMorris Rodgers for their leadership on the Restoring Hope for Mental Health and Well-Being Act of 2022.

In June, The Kennedy Forum lent its support to the following initiatives:A letter led by Sandy Hook Promise urging U.S. Senate leaders to pass bipartisan gun and mental health legislation. Shortly after the letter was sent, the Senate and then the House passed S. 2938, the Bipartisan Safer Communities Act. President Biden signed the bill into law on June 25. This important legislation boosts funding for school-based mental health resources and expands nationwide certified community behavioral health centers (CCBHCs), which provide mental health and addiction treatment, around the clock crisis care, and comprehensive outpatient services through a Medicaid grant program. The new law also adds more than $1 billion in funding for suicide and violence prevention programs, early identification and intervention programs, school-based mental health professionals and wrap-around services, and telehealth access to mental health care for children and young adults. View the letter here. A summary of the bill can be found here.

A letter led by Reimagine Crisis to leadership of the House and Senate Appropriations Committees outlining funding priorities for the FY2023 Appropriations Bill to support the expansion of 988 crisis services in every community. Priorities include Community Mental Health Services Block Grants, call centers in the lifeline network, a mental health crisis response partnership pilot program, and more. View the letter here.

A letter led by Shatterproof urging California budget subcommittees and Governor Newsom to enact policies that ensure opioid settlement funds will be used to address the actual opioid crisis, in line with Johns Hopkins' "Principles for the Use of Funds From the Opioid Litigation." Read the letter here.
Special Wit Spotlight
The outcome of Wit vs. United Behavioral Health (UBH) will impact access to mental health care for youth and families for years to come. At stake is whether the largest insurer in the country can make its own decisions around mental health and addiction coverage—and in the process, set a dangerous example for other insurers. The U.S. District Court for Northern California ruled in 2019 that UBH ignored accepted clinical standards to prioritize profit over people's needs (half of the class members in the lawsuit were children/adolescents). Shockingly, the ruling was recently reversed by a 3-judge panel of the Ninth Circuit Court of Appeals. But there's still an opportunity to restore the original ruling via a rehearing from the full Ninth Circuit Court. The Kennedy Forum is sounding the alarm on the implications of this recent ruling and urging the Ninth Circuit to rehear the case. Learn more about Wit and help to spread the word by visiting this page.

Recent local press:
Campaigns & Resources
The latest round of Don't Deny Me campaign posts for partner organizations addressed Pride Month, Alzheimers and Brain Awareness Month, and National Mens Health Month. See sample posts here and here.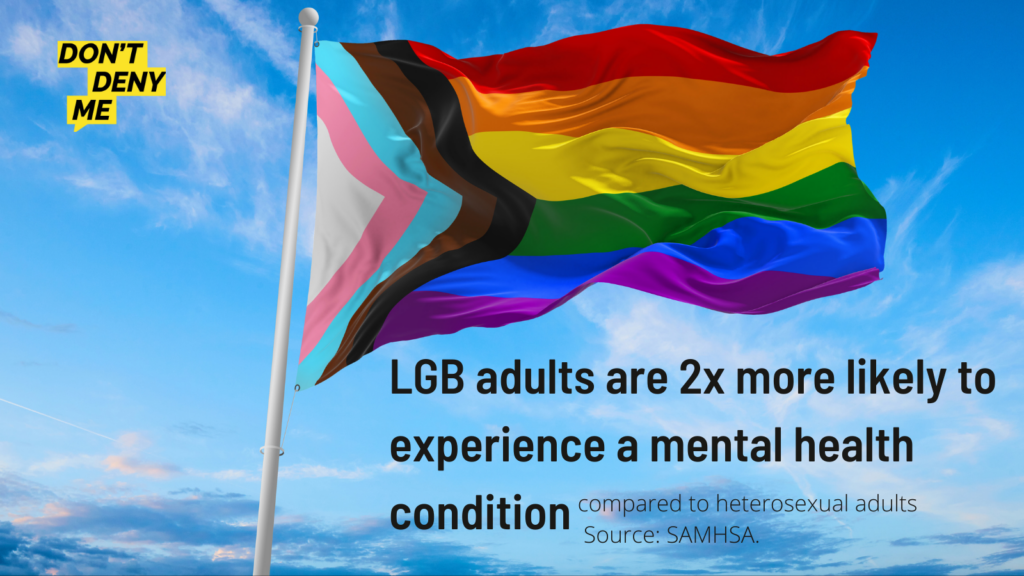 Health plans often attempt to justify low reimbursement rates of mental health providers by claiming they have less "bargaining power" than physical health providers. A new analysis from the Mental Health Research and Treatment Institute shows that the ability of mental health providers to choose NOT to join insurance networks due to low reimbursement shows they have significant bargaining power. The analysis argues that regulators should reject health plans' claims of reimbursement rate parity compliance when their mental health provider networks are inadequate, large percentages of claims are out-of-network, and they've done nothing to increase reimbursement. View the analysis here.

988, the new mental health crisis line, will be launching next month. The Kennedy Forum participated in promotional campaigns to increase awareness of the new service, while also garnering support for investments to fully fund it. See a sample post here. View the NAMI-led "Reimagine Crisis" principles here and their partner toolkit here.

Trust for America's Health published their 2022 Pain in the Nation Report. Data revealed the U.S. experienced the highest ever combined rates of deaths due to alcohol, drugs, and suicide during the first year of the COVID-19 pandemic. The report also included local, state, and federal policy recommendations. Read it here.

Crisis Text Line has published their third annual United in Empathy report, which pulls insights from nearly 1.3 million text conversations with users over the course of 2021. Of note were increases in body image and grief issues. Read the report here.
Coalition Building
While mental health conditions are common across the globe, the U.S. is the only country where mass shootings are disturbingly commonplace. In June, Patrick and The Kennedy Forum united 59 organizations to express deep concerns about false and harmful attempts to link mental illness and gun violence. Read the full statement here.
Youth Mental Health Focus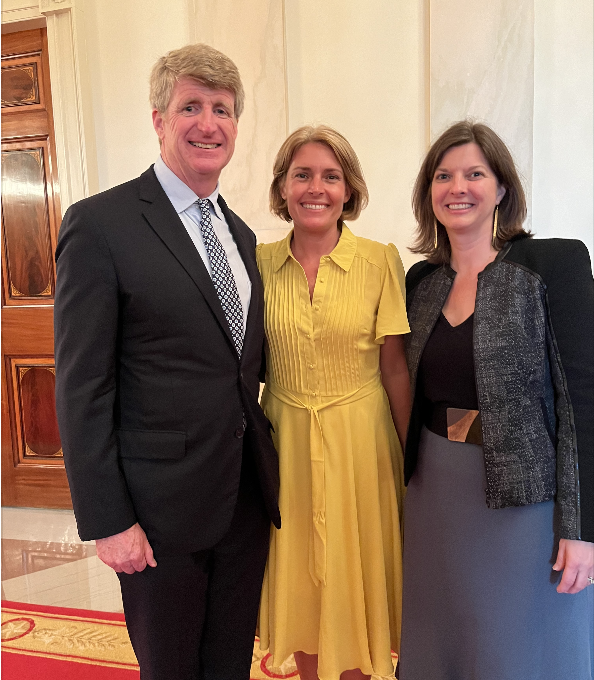 "Hiding in Plain Sight: Youth Mental Illness," a film by Ken Burns, Erik Ewers and Christopher Loren Ewers, premiered on PBS stations nationwide on June 27 and 28. It has been a busy few weeks for The Kennedy Forum's leadership team, as they attended many private screenings of the film including a particularly powerful one at the White House, hosted by First Lady, Dr. Jill Biden, where many of the youth featured in the film watched with an audience for the first time. (See photo above featuring Patrick and Amy Kennedy with The Kennedy Forum's President & CEO, Rebecca Bagley). The two-part, four-hour highlights first-person accounts from more than 20 young people, ranging in age from 11 to 27, who live with mental health conditions, as well as parents, teachers, friends, healthcare providers in their lives, mental health experts, and advocates, including Patrick J. Kennedy. It is part of Well Beings, a national campaign launched in July 2020 from public media to demystify and destigmatize our physical and mental health through storytelling. Check your local PBS station for additional viewing options (PBS.org) or access the PBS Video App Free Video on Demand.
In June, The Kennedy Forum signed on to Inseparable and NAMI Delaware's letter to Delaware's General Assembly leadership asking them to pass HB 300, which would bring nationally recommended rations of school mental health professionals into middle schools. The letter noted "We are already experiencing a youth mental health crisis and repeated mass shootings are only visiting further trauma upon our students." Read it here.
In a new blog post, The Kennedy Forum's policy advisor, Lauren Finke, shares her personal experience navigating the impact of a school shooting and emphasizes the need for legislative action to address the trauma experienced by survivors and communities in the wake of such tragedies. "The longer the U.S. struggles with this issue, the more trauma we all have to carry, coming at a great cost to the health of our communities and society at large." Read the post here.
The Forum also signed on to a letter led by Mental Health America, the Eating Disorders Coalition, and American Psychological Association urging the Senate Commerce Committee to hold a markup of the Kids Online Safety Act (KOSA). Introduced by Senators Blumenthal (D-CT) and Blackburn (R-TN), KOSA would increase accountability and transparency of social media companies, thus protecting young users. Read it here.
The U.S. Department of Education recently extended Higher Education Emergency Relief Fund (HEERF) dollars through June 30th, 2023, also recommending that campuses use the funds for staff and youth mental health. The announcement included several examples of appropriate mental health focused spending that may be helpful to higher education leaders. View it here.
To help schools develop and strengthen mental health supports for LGBTQ+ students, The JED Foundation's Proud & Thriving Framework offers concrete ways to build communities of care. Access it here. JED also offers guides to understanding gender identity and sexual orientation. Access them here and here.
PolicyLab at Children's Hospital of Philadelphia recently released a white paper titled, "Building and Sustaining Programs for School-based Behavioral Health Services in K-12 Schools." The resource provides examples of state and community models of comprehensive school-based behavioral health services and the policy levers that enabled the models. Access it here.
Equity Focus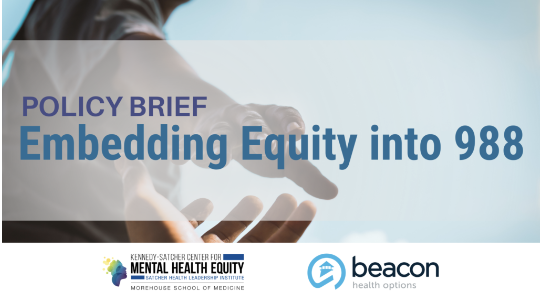 The Kennedy-Satcher Center for Mental Health Equity released a new policy brief in June titled "Embedding Equity into 988," in collaboration with Beacon Health Options. Grounded in equity research and data, the brief identifies key recommendations for equitable psychiatric response as we prepare for the roll out of the new 988 crisis line in July. Read it here.
In the News
In a June op-ed for Providence Journal, Patrick recounts the impact of trauma on his family and addresses the mental health focus of the bipartisan Safer Communities Act recently signed into law by President Biden. "No amount of mental health funding in the world is going to negate the mass availability of military-grade weapons that intersect in horrific ways with hate and racism." Read the essay, titled "As a Kennedy, I've lived by whole life in the shadow of gun violence," here.
Max Tillitt was discharged early from inpatient care for mental illness and addiction because his health plan stopped paying. 10 weeks later he died of an overdose. Sadly, this happens every day to families across the nation. Holding insurers accountable will help to change this. Patrick recently spoke to The Washington Post about this topic and the consequences of a health care system that still fails to treat the brain alongside the body. Read the article here.

David Lloyd, The Kennedy Forum's Senior Policy Director, spoke to Behavioral Health Business about the first substantial gun violence legislation in the U.S. in 25 years. The House passed the bill on June 24 with provisions that keep mental health needs at the forefront of the national conversation. Read the article here.
The Press of Atlantic City covered a Stockton University event featuring Amy Kennedy as a panelist. "So many school districts have been fortunate to start using ESSER (Elementary and Secondary School Emergency Relief) funds and pandemic-related funds," Kennedy said, "but knowing that that's going to end, they've had to spend those funds, and it's challenging to think that they're going to bring staff on only to let them go in a year." Read more here.
Recordings
Watch Amy Kennedy's Stockton University panel discussion titled "Investing in New Jersey Families: Building School and Community Youth Mental Health Services" here. Other panelists included Stockton Professor of Psychology, Dr. Sara Martino; Dr. Brian Isaacson from AtlantiCare; Greater Egg Harbor School District Superintendent, James Reina; Leesa Seymour from Atlantic County Youth Services Commission; and school nurse, Victoria Druding.
On June 16, MindSite News interviewed the authors of a recent report by Hurdle Health on vicarious racism and mental health. Watch it on Facebook here.
On June 21, The Kennedy-Satcher Center for Mental Health Equity hosted "Embedding Equity into 988: Leadership Summit" with panelists Patrick J. Kennedy; Dr. Lisa Henderson-Smith, PhD, LPC, CPCS, CCMP, from Beacon Health Options; Dr. Warren Ng, President and CEO of the American Association of Child and Adolescent Psychiatry; Dr. Miriam E. Delphin-Rittmon, Assistant Secretary for Mental Health and Substance Use of SAMHSA; and Christen Linke Young, Deputy Assistant to the United States President for Health and Veterans Affairs. Watch it here.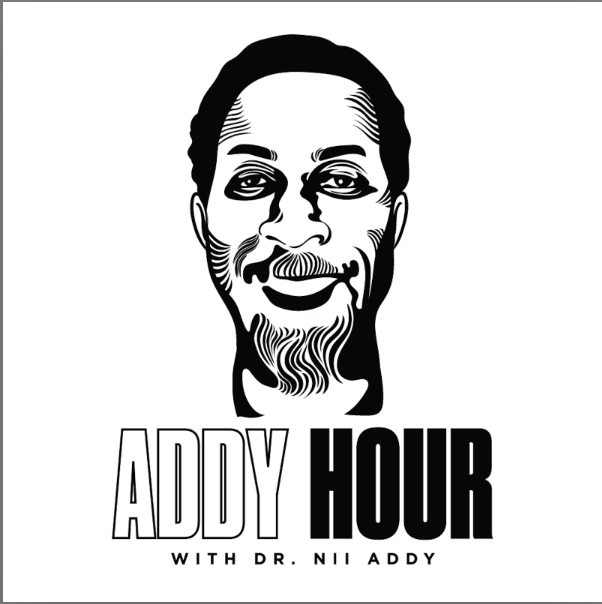 On June 21, the "Addy Hour" podcast released episode 31, "Mental Health, Politics, and Advocacy with Former U.S. Rep. Patrick J. Kennedy." Dr. Nii Addy, Yale professor and neuroscientist, spoke with Patrick about the need to normalize mental health, where we've made societal progress, the critical work that remains, and daily practices to stay grounded amid ongoing societal crises. Listen at addyhour.com or Apple Podcasts.
Upcoming Events
"Hiding in Plain Sight" Screening: Annual Conference of Chief Justices and Annual Conference of State Court Administrators
July 25
A panel discussion with Ken Burns and Patrick titled "The power of stories to educate, inform and produce change" will follow this screening. Mr. Russ Deyo, a Board Member of One Mind, a former Board Member of the National Center for State Courts, and a valued member of the National Judicial Task Force to Examine State Courts' Response to Mental Illness will serve as moderator.
September 5-18
The Kennedy Forum is excited to join nearly two dozen cross-sector partners from across the country in supporting Mobilize Recovery 2022, an initiative of the RecoveryAdvocacy Project and the Voices Project. Mobilize Recovery strives to advance policy around substance use disorder recovery, to create connections to vital and lifesaving services, and to engage affected individuals in meaningful community action. Launching Labor Day weekend 2022, Mobilize Recovery Across America will depart on a west-to-east, cross-country bus tour. At each stop, Mobilize Recovery events will highlight the unique recovery experience in different communities. With the support of brands such as Google and YouTube, all stops will also have a virtual component—to share local insights and best practices with others.