When former Congressman Patrick J. Kennedy ushered the Mental Health Parity and Addiction Equity Act (Parity Act) into law over a decade ago, it was just the beginning of a massive cultural shift in the way we address brain health as a society.
Since then, The Kennedy Forum has been hard at work planting the seeds to ensure that one day, all Americans will have the ability to access quality, evidence-based mental health and addiction treatment on par with physical health treatment. Here, we'll take a closer look at several key areas of growth impacting individuals and their families.
Better federal enforcement of the law
For far too long, health plans haven't been held accountable under the Parity Act due to a lack of transparency in operations, insufficient oversight, and more. Fortunately, thanks to years of strategic advocacy, the tides are beginning to turn.
The U.S. Department of Labor (DOL), which has authority over most employer-sponsored health plans—that cover well over 100 million Americans—has started to take aggressive action under Secretary Marty Walsh. As proof of this, look no further than the recent enforcement actions against United Healthcare, pursued in partnership by the DOL and New York State. In the August settlements, United agreed to pay more than $18 million over allegations of parity violations.
Secretary Walsh confirmed the new enforcement focus in our 2021 webinar, "Mental Health Parity: Ending Discrimination in Health Insurance Coverage." DOL is also using new authority to request plans' required parity compliance analyses per the 2021 Consolidated Appropriations Act—a law The Kennedy Forum, the American Psychiatric Association, and other partners helped to advance. These actions will go a long way in increasing transparency around mental health parity, thus making it much easier for DOL to act when necessary.
Finally, DOL is very close to being granted civil monetary penalty authority for parity, which means the department would be able to assess fines when insurers break the law. In 2021, the Parity Enforcement Act was reintroduced on a bipartisan basis in the House, and the authority was also included in the House-passed Build Back Better Act. To keep things moving in the right direction, we led a letter to the Senate Health, Education, Labor and Pensions (HELP) Committee urging leaders to pass the Build Back Better Act as is. Advocates like Patrick J. Kennedy have been calling for this critical change for years. In fact, it was even included in the final 2017 Opioid Commission report submitted to President Trump, a commission on which Kennedy served.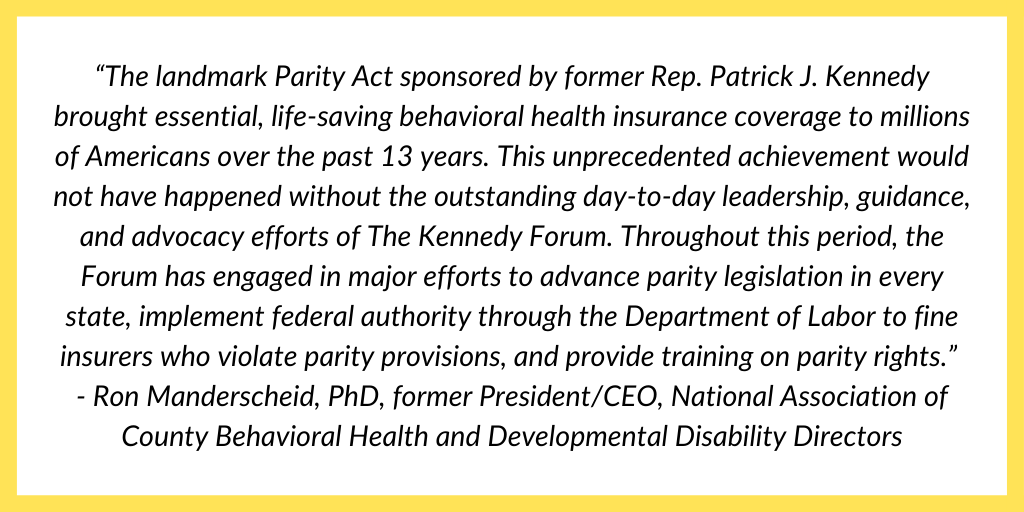 Better state enforcement
On the state level, parity progress is also well underway. For example, in 2020 and 2021, Delaware issued 1.2 million in fines againstHighmark, Aetna, United, Optimum Choice, and Cigna. And since 2017, nearly half of states (23) have mandated parity compliance reporting either through statute, regulation, or administrative action put forward by The Kennedy Forum's Model State Parity Reporting Bill.
We're also leading technical efforts across the country to help states prioritize parity. In April of 2021, The Kennedy Forum submitted detailed comments to the Texas Department of Insurance that were ultimately cited in making proposed regulations final. We also wrote a letter to the National Association of Insurance Commissioners requesting a change to its Market Regulation Handbook to help states properly assess insurers' parity compliance and be consistent with the Consolidated Appropriations Act.
Most recently, The Kennedy Forum issued a new policy platform, that, among other things, outlines specific steps states can take right now to leverage federal funding to enforce parity.
Better insurance coverage
Even after passage of the Parity Act, health plans continue to deny coverage for mental health and addiction care by designating certain treatments as "not medically necessary." This lack of coverage can have tragic results for the individual, including disability, unemployment, and even death. Many families are forced to exhaust their life savings, take out second mortgages on their homes, or go deeply into debt trying to help their loved one.
Such denials often stem from insurers using flawed medical necessity guidelines to determine which treatments should and should not be covered. Thankfully, the 2019 Wit decision that ruled against United Healthcare for doing just that, propelled the issue into the spotlight. Since then, The Kennedy Forum has been fighting to require insurers to make coverage decisions consistent with "Generally Accepted Standards of Care," which are agreed upon standards for treatment among clinicians that are reflected by non-profit clinical professional associations such as the American Society of Addiction Medicine (ASAM).
Generally Accepted Standards of Care level the playing field and get us one step closer to the promise of mental health equity. They are essential in connecting more people to treatment when and how they need it. Take California, for example. The Kennedy Forum enacted legislation there in 2020, SB 855, which took effect January 1, 2021. Under SB855, California lawmakers have now made it clear that insurers in the state must use non-profit utilization review criteria (i.e., The ASAM Criteria), which means they have to cover all levels of mental health and addiction treatment. Consequently, United has been required to cover all levels of care consistent with the ASAM Criteria, while Aetna has switched voluntarily to using the Criteria nationwide.
After The Kennedy Forum's success in California, it released the Jim Ramstad Model State Parity Legislation as a guide for other states. To date, 40 other national mental health and addiction organizations have endorsed it. In 2021, Illinois and Oregon joined the ranks of states who have enacted provisions from the legislation to require coverage decisions to be consistent with Generally Accepted Standards of Care. These changes equate to much better coverage for residents.
So, not surprisingly, when the Defendant in the Wit case appealed the critical lower court decision to the U.S. Court of Appeals for the 9th Circuit, The Kennedy Forum and 25 other advocacy organizations jumped to action. Together, we filed an amicus brief—alongside the DOL, which filed its own amicus brief—in support of the lower court's ruling. As a nation, we simply can't turn back on Generally Accepted Standards of Care. They are too important in the fight for parity.

Better awareness of the parity landscape and parity rights
If patients, providers, policymakers, employers, unions, and journalists don't understand the ins and outs of parity—and why it's something worth fighting for—we'll never see true integrated health. That's why The Kennedy Forum goes to great lengths to educate and inspire action with credible, reliable public-facing content.
This year, we facilitated several virtual events including, "Prioritizing Employee Mental Health Care & Internal Supports," a 3-part webinar series for employers and "The Essential Role of Organized Labor in Addressing Workplace Mental Health" featuring the late Richard Trumka, president of AFL-CIO. When you have the leader of 56 national and international labor unions representing 12.5 million working men and woman speaking about parity, decision-makers take notice.
The Kennedy Forum also worked closely with The New York Times journalist Reed Abelson to inform an eye-opening article titled, "Teachers, Police, Other Public Workers Left Out of Mental Health Coverage." The piece called much-needed attention to alarming decisions by state and local governments to opt out of the Parity Act, thus denying teachers, police officers, and other essential workers (and their families) the right to mental health and addiction treatment at parity. At a time of rising need, no public employer should be denying public service workers fundamental non-discrimination protections that would facilitate them getting help.
Accordingly, Patrick J. Kennedy and The Kennedy Forum recently called out benefits consulting firm, Segal, for urging state and local governments to continue opt outs of the Parity Act that facilitate these exact types of exceptions. Read Patrick Kennedy's tweet thread here.
A new world ahead
Change is happening all around us. Attitudes about mental health are shifting profoundly. Laws and increased visibility of behind-the-scenes insurance operations are finally forcing accountability. Sometimes it's messy, yes. But mental health is getting the attention—and action—it deserves as more and more individuals come out of the shadows to demand equal treatment. As the year comes to a close, we hope you will join us in celebrating the victories and thinking ahead to the future. Even amid the ups and downs of life and politics, one thing is certain: When people come together en masse for a greater good, justice will always prevail. So, in the words of our founder, Patrick J. Kennedy… "Onward!"

If you'd like to support our work, donate directly through The Kennedy Forum's Facebook page, or create a personal Facebook fundraiser. You can also donate directly through our website and select The Kennedy Forum on AmazonSmile.